12 January 2018
Australian Open 2018 Kia Fleet Handover Ceremony
Kia Motors has continued its crucial role in keeping the Australian Open mobile, supplying a fleet of 120 vehicles to ensure players, officials, the public and the media are all where they need to be when they need to be during the two weeks of the tournament.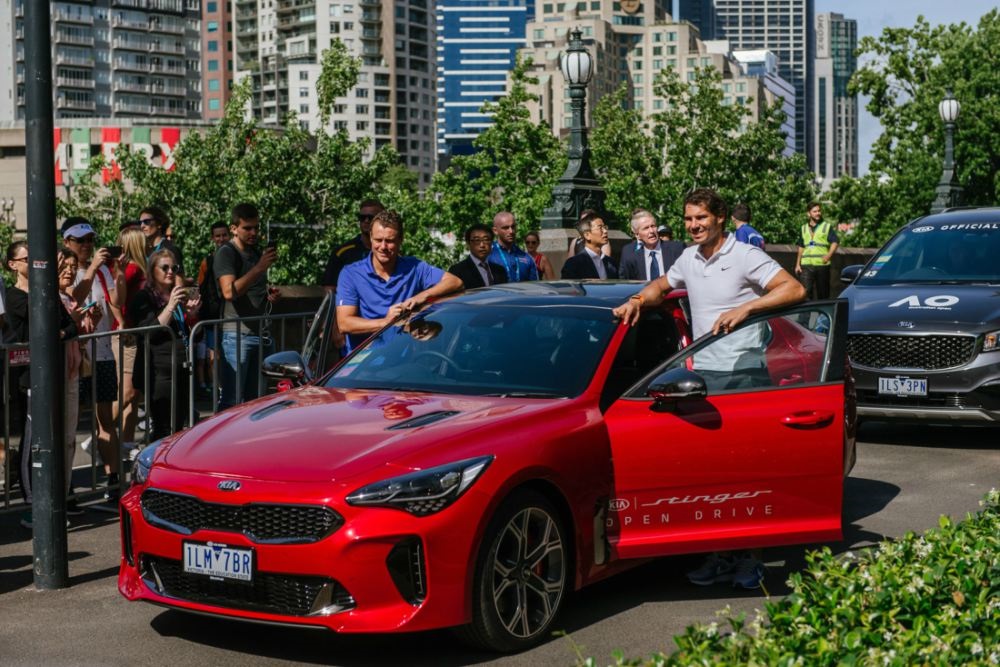 During the official handover ceremony in Melbourne today, 16-time Grand Slam champion and Kia global brand ambassador Rafael Nadal marked the occasion by accepting the keys to a Stinger GT from former Wimbledon and US Open champion Lleyton Hewitt, who had driven the car between Brisbane and Melbourne.
The official vehicle handover ceremony took place today at Federation Square in Melbourne's CBD with Nadal accepting the Kia Stinger, along with a mix of Kia Sorento SUVs and Kia Carnival MPVs on behalf of the Australian Open organizers.
Last year's fleet, driven by more than 200 volunteers, completed 20,000 trips and covered more than 300,000 kilometres. This year the fleet will run throughout the tournament from January 15 until after the Men's final on January 28.
"The Australian Open is a fantastic event that entertains millions of tennis fans globally," Kia Motors Australia Chief Operating Officer, Damien Meredith said. "Kia have been fortunate to be associated with the ongoing success of one of Australia's best sporting events for the past 17 years and it's exciting to think of what's to come for the Australian Open and for Kia."
Tennis Australia Chief Executive Officer, Craig Tiley, said that seeing the world's best players being ferried around Melbourne in Kia cars was a sure sign that it was Australian Open time.
"We are very proud of our longstanding partnership with Kia," Mr Tiley said. "It's been a very special relationship and we are delighted once again to accept the fleet of Kia vehicles that are such a vital part of the successful running of the Australian Open."
This year marks the seventeenth year of Kia's partnership with the Australian Open, and the fourteenth year of its association with Rafael Nadal. Over the past 17 years, Kia's courtesy fleet has clocked up close to six million kilometres in tens of thousands of journeys carrying tennis players and match officials in comfort and safety.
To celebrate its long-term involvement with the game of tennis and one of its most successful players, Kia will roll out various on- and off-line programs for tennis fans around the world to enjoy. Further details on the initiatives and how to participate can be found at www.Kiatennis.com.au.